WELCOME
Links
Friends
Islam
AF
Malaysian Newspaper
International News
Airlines
TV Chefs
Cooking Anyone?
Bonsai Anyone?
Multimedia
Rojak
Monday, June 27, 2005
Designer Drugs? .. what the ..
Prime News, New Straits Times, Monday, June 27, 2005 - The number of Malaysians taking methamphetamines such as syabu has more than doubled. It was further reported that, in the Klang valley alone, about 25 Malaysians had died of
designer-drug
problems in the last 18 months.
Designer Drugs??
.. what the .. are we serious?? Really, really serious about this? We have heard of the rich and famous (or not so rich and not so famous) buying and wearing designer clothes, designer luggage and designer watches. Ok, ok now everyone can afford designer stuff. Designer shoes, designer undergarments, designer glasses (spectacles) and would you believe it, designer food.
Lo and behold, every single one of the 'designer' items cited are good stuff. Then we have
designer-drugs??
This is good, yes? no?

Don't you think it should be

LETHAL-DRUG

instead of designer-drug. This is a very costly confusion in the notion of 'designer' here, very serious. It does not make sense -

stop

glorifying drugs by labelling it as designer stuff. It does not jive, yowall. Aiyaa, tak tau lah ...


posted by Rozhan @ 6/27/2005 08:07:00 PM


Largest Mosque in Europe Opens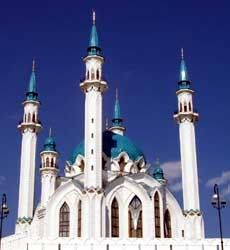 KAZAN, June 24, 2005 (IslamOnline.net) – The Qul Sharif Mosque, Europe's largest mosque, was opened Friday, June 24, in the capital of the former Soviet republic of Tatarstan, marking the celebrations of the 1000th anniversary of the establishment of the Tatar capital. The white-and-blue mosque's central dome stands 39 meters high and the four main minarets are each 57 meters high and cost around 375 million rubles, most of which were donated by the Tatar people.
posted by Rozhan @ 6/27/2005 06:24:00 PM


Saturday, June 25, 2005
Tennis Anyone?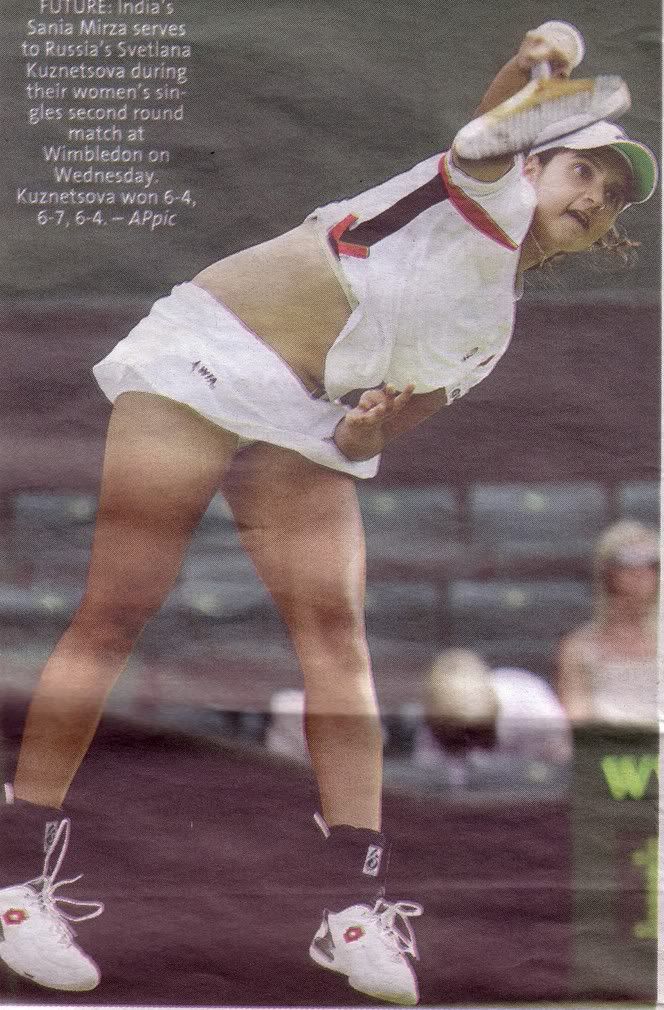 NST- 24 June, 2005- Sports, page 44 - Sania Mirza said, "Maybe I wear short skirts but I pray five times a day and do the things that other Muslims do. Some men keep a beard and they don't do the things they are supposed to do."
-
India
's Sania Mirza defending herself against her critics
Hmmm ... something not quite right here ..
So, I shall get straight to the point. Here's the deal. For women in Islam, to cover the whole body, except he hands and face is obligatory (
1, 2, 3, 4).
This is very, very clearly stated in the Quran. Anyone who want to contest it, go ahead, no one can say anything, we go into separate graves anyway. The beard is not compulsory. These are two different categories altogether.
Ok, I am not going to preach. There are enough articles on the net, just my thoughts. If Sania wants to wear short skirts and play tennis, who can stop her (maybe her parents, who are responsible for her), go ahead, but remember that
I will not draw any implications, for it would not be my place to be judgemental. But one cannot ignore the fact that we have been taught for so long to observe the prayers and it will protect us from doing things not proposed by Islam.
More importantly, let us not
CHEAT
our own self. On the Day of Judgement, we 'stand'
ALONE
before the Almighty to account for our actions. Nothing more, nothing less. We are not in a position to
give excuses, lament, complain, not satisfied, grumble nor compare and say someone has a beard but don't do half the things one should.
There is nothing hidden. There is nothing and nowhere to hide. The mouth is locked and the parts of the body will speak the truth.
Defend yourself all you want, do not be cheated in the Eternal Life.
In truth, we can't be bothered what the next person does or don't do, not even the members of our family, not husband and wife, not even father and mother. We ALL have to deal with our own account!! No one can help us except ourself, the shafaat of the Prophet (saw) and the mercy of Allah.
In saying so, perhaps the Muslim global community can set up a parallel global agenda for women. Come on OIC, let's see some action, real action here. Stop becoming like NATO - No Action, Talk Only.
Women can do anything, play anything, learn anything, achieve anything - all within the values of Islam. Men and women should not shake hands - the hands of the Prophet NEVER touched the female hands ('cept those allowable). But it is not the act of shaking hands that is not permissible, it is the touching of flesh. So, if it is 'somehow' covered, it would not violate the any rule.
As always, we keep missing the point in implementing or doing something.
We can have muslim women tennis champion, shooter (like the women of Iran), women lawyers, doctors, architects, professors, anything. Remember, men from afar used to come to learn from the daughter of the Prophet (saw) because of her closeness to the Prophet (saw) and the knowledge that she has. The first Muslim on this planet was a women!! Don't short change yourself. With this, I remain, aiyaa, tak tau lah ...
posted by Rozhan @ 6/25/2005 05:52:00 PM


Wednesday, June 22, 2005
Women only - in the pool
The Star - Sepang, Tuesday, 21 June 2005 (pg. 12) - To attract more Middle East tourists, some hotels had already allocated time for women to swim from 6pm to 9pm, according to the Deputy Tourism Minister. He went on to say that some West Asians were "more sensitive" and having a "women only" time for pools would encourage them to visit Malaysia.


West Asians??

Hello ... what about Malaysians??

Do YOU see Malaysian women who normally cover themselves in the pools. Wouldn't they want to take a dip too. How come this was not done to facilitate for Malaysian women.

My wife and daughters can swim, but they won't go in the Hotel pool because of the exposure. A few Universities in Malaysia have ladies 'times' in the pool and varoious other sporting activities. We can do this for ourselves, must we entertain other people first.

Typical Malaysian behaviour .....




I come from Penang and I can't swim by the way. My favourite position on the ferry will be very near to the life jackets, near the lever as well .. I ain't taking no chances, you hear.... everybody has a good laugh when I tell them that. I don't care, I'm saving my butt ...
Here is the fun part. The DM went on to say after welcoming a plane-load of Middle East tourists at the KL International Airport that,
"if the men want to look at them from their hotel rooms, I don't want to interfere."

Speechless, speeechless ...
even that we can't do properly. How much does it cost to put a kinda retractable roof. We are very innovative, put movable flowers and pots and

voila!!

, we have it. Like that one also must tell ka?? Aiyaa, tak tau lah ...
posted by Rozhan @ 6/22/2005 10:16:00 PM


Postgraduate Research and Malaysian Schools
In the
space of seven days, I Chaired two Ph.D
viva
sessions and was an External Examiner to one other thesis. These were doctoral thesis that took between three and a half to four years to complete. All three candidates were successful in their defense that took between one and a half to two hours and come the Convocation day in August, they will receive their Ph.D degree. All three also happen to be teachers and two are from the Teacher Colleges.
The titles of the Ph.D thesis are:
The Impact of the use of Graphics Calculator on the Culture of Statistics Learning
Kesan Hipermedia terhadap Pemecutan dalam Pembelajaran Konsep-Konsep Biologi
The Effects of Inquiry-Based Computer Simulation with Cooperative Learning on Scientific Thinking and Conceptual Understanding in Gas Laws among Form Four Students in Malaysian Smart Schools
ALL three candidates also had their research work presented at Seminars and Conferences and published in Journals prior to their defense. This is all excellent academic endeavours that has produced three more holders of Doctor of Philosophy (Ph.D) for Malaysia, in particular, and the world of education, in general.
As fellow academics, I convey my

and

them to the 'club', so to speak, and we will meet each other again (I hope) at Conferences (funding permitting) and in Journals (not face-to-face, of course).
They have toiled for a period of time, researched on current educational strategies and pedagogies, tested on respondents in the current educational setting (schools whether smart or not), and through solid theoretical underpinning and conceptual framework, proved that their research works produced an enhancement in educational understanding and achievement of the students as opposed to 'traditional' settings (
this is also a long story - we will do it some other time
).
WHERE DO WE GO FROM HERE?
What happened to past doctoral/masters research works?
I am trying to find the right words here. Our educational system should be able to benefit from all these valid research work done in the local context -
in the local context!!
They are not some
foreign expert
who we bring in that know
nuts
about our students characteristics, educational system and how the management mechanism work. If local institutions of higher learning can't get through our own education system governing the schools (I can back this up, have no fear), foreign advises is always a waste of time and money and after some time, we will be back to the 'normal' exam oriented approach and expectations that
ALL

our students must get

ALL

As in

ALL

subjects!! Call me crazy.


It is time that we are really serious about this if we are really to talk about being an educational hub of the region. We should be serious in implementing innovative pedagogies, appropriate use of the spectrum of educational technologies and perhaps even an open curricula concept from STPM (this is another long story - gosh there is so much to tell) level onwards.



Although we now have two Ministries of Education, they should be like Siamese Twins towards the nation's educational endeavour. With all due respect, we really do not need foreign experts to advise us on our educational settings. We are not stupid, we are not blind. In fact

WE

MALAYSIANS

get invitations to deliver Keynotes Addresses at International Conferences, sit on International Editorial Boards, consultants to International educational bodies, World bodies, International and Worlds Assocations and Societies across the disciplines. Actually, in this respect, we have yet to gain

INDEPENDENCE

. Technically speaking, we are still

COLONISED

, in the mind!!

Come on, Malaysians, let's kick butt here .... aiyaa, tak tau lah ..


posted by Rozhan @ 6/22/2005 12:43:00 AM


Tuesday, June 21, 2005
Kuwait Minister - Malaysian Gynaecologist ??
The Star, Wed, 15 June 2005 (pg. 34) reported the appointment of the first woman Cabinet member, the move being made possible when lawmakers in the tiny, oil-rich country granted women the RIGHT to vote and run for Parliament. Massouma al-Mubarak is a US-educated university teacher and women's right activist and is waiting for a decree from the Emir, or his deputy the crown prince, both of whom are ailing.

Tribal representatives and fundamentalists believe women should not mix freely with men and should stay home to take care of families. Hmmm .. reminds me of the women who went to war with the Prophet (pbuh) in the early days of Islam ....

Puzzling title, huh?? Well, while we are on the subject of women, it reminds me of the advise whispered by the Prophet (pbuh) to his daughter Fatimah in his final days (I apologise for not being exact, appreciate if anyone can help out here ..) - and he said, 'take care of your own kind (gender)' as in fellow female.

I couldn't agree more. Anyway, this is a real and heavy 'amanah' on the womenfolk - take care of your own kind. I can read this as take care of your morals, well being, self-respect and many more. To translate this to my version of a mundane level, where are the female gynaecologists??

Yo learned womenfolk, how come all of my five children born from 1985 to 1998 were delivered by male gynaecologists?? It is so difficult to find female gynaecologist, let alone a Muslim one. Remember the advise of the Prophet (pbuh). There are so many educated women around and we are so fortunate to be in Malaysia where the girls go to school and are schooled well, unlike some places. But where are the gynaecologists?? Aiyaa, tak tau lah ...


posted by Rozhan @ 6/21/2005 07:13:00 PM


Tightrope to Education

The Star - Wed, 15 June 2005 (pg.20) - shows not a trapeze act by the school children but the act of crossing an 80m-wide Sungai Sapulut on a rickety suspension bridge that is nothing more than a few cables strung across the waterway to go to Sekolah Kebangsaan Labang (in Sabah).


With their shoes inside their school bags, the children aged seven ti 12 walk barefoot on the lower cable with hands grasping the upper cable. The bridge has been damaged three times over the past seven years and the villages managed to repair it twice. Nabawan district officer said that repair work on the bridge would be carried out as soon as possible.

Let us hope nothing untoward will happen to the children in the meantime.

Hmmm .. wonder what the bridge would look like if an important person need to cross it

.. aiyaa, tak tau lah ...
posted by Rozhan @ 6/21/2005 04:47:00 PM


Sunday, June 19, 2005
Malaysian Idol
I did not watch Malaysian Idol (MI) at all last year except for the Final. I'm an Akademi Fantasia follower all the way. I caught a glimpse of the audition that is ongoing right now and was taken aback at the similarity of the American offerings. Not so much as to the mannerism of the judges, but the behaviour of the prospective idols that came for the audition.
Served as highlights, it showed Malaysians swearing at being rejected. Long blips, short blips, and everyone is
PROUD
to do it. By golly, I don't think I will watch MI again. It is utterly disgusting and more importantly disheartened that we, the loving, caring, friendly and courteous Malaysian saw it fitting to emulate the characteristics of the Americans. How disrespectful, and we practise it with pride. Holy ravioli, am I missing something here?? Why so we do this?? Guess they got confused with the notion of being
Modernised
and
Americanised
. Aiyaa, tak tau lah ...
posted by Rozhan @ 6/19/2005 08:15:00 PM


Friday, June 17, 2005
Retain retiring intellectuals, professors ..
Sokong (agree), sokong !!
- Read in the NST, 17 June, 2005, pg. 10 that institutions of higher learning were urged to develop a system to retain professors and intellectuals who are due to retire.

Sounds good to me

. Make sense actually. Teaching, according to my father is one of the noblest vocation one can have as education is deemed obligatory by Islam to man and women.

In the time of the Prophet (pbuh), prisoners of war were asked to teach muslim children before they can be set free. A very high value is placed on education. Academia is not an easy path to trod either with lecturers getting their professorship in the fifties, and some just a year or two before they retire. Of course, there are also the young professors. I got my Professorship at 45, don't know whether that is considered young or old.

It is not easy to be learned, and at the peak of one's career, it is time to retire. Teaching is also one vocation where it complements well with the notion of lfelong learning where even Islam propagates and encourages one to learn from the cradle to the grave. The day one stops learning is the day one dies - heard of this before?? - or something like that.

However, I propose that the job specification of the Prefessor (R) - as in retired, be

slightly different

and not be focussed too much on teaching but more of research and supervision of postgraduate studies. They can then be the mentor or nucleus to the younger faculty members and as an expert and world renowned figure (we hope) in his/her area, there is the capacity to attract foreign postgraduate students.

Postgraduate (and even post doctoral) work is very important as they provide the continuity in research and advancement in research. In other words, you can work the postgrads like a horse (so to speak) and at the end of the day, they will get their Ph.Ds and work has advanced. This concept has been developed and exploited well in the west.



If Malaysia wants to go in this direction, then she must put the money where the mouth is. If not, again, nothing will happen - big schemes, no money, do halfway - same old story, die a natural death. No money, no committment from the top (TQM principle) - no talk.



How many times have we talked about bringing back top Malaysian scientists who have made good overseas, enticing them with duty free cars and the like.

Whoever they are just don't get it!!

What the scientist will need are his equipment and gadgets to duplicate the set-up so that he can continue to work in Malaysia (not to mention back-ups and the relevant support systems - and not red tape) - not cheap cars and free house. He will probably sleep in the lab. These 'toys' are

NOT CHEAP

. We are talking high end stuff here, millions of dollars - and this is the

KEY

issue here. How come (suddenly) there is money for those coming home, so to speak, when it is not easy to get the money at home. Given the chance, local scientists

CAN

achieve the same, had they been given the right equipment and support, which those who worked overseas had access to. Don't be like

'kera di hutan disusukan, anak di rumah mati kebuluran.'



From personal experience, when I returned to Malaysia in 1986 with a Ph.D in Physics, I was working on the fabrication of thin metallic film by sputtering technology. This metallic coats that I investigated were for magnetic storage devices coats such as those found on video tapes and I was working on the stability (temperature effects) of the alloys. This was then at the forefront of materials research. At that time even the company Komag did not exist in Malaysia. OK, so I applied for a sputtering machine to get some work done. To cut a LONG STORY short, I did not see the sputtering machine (a simple one too) until more than

10 years

later (no need to tell the tale in between), by which time I had reskilled myself in the area of Open & Distance Learning. I am now a

Professor of Open & Distance Learning

, not a Professor of Physics. Aiyaa, tak tau lah ...


posted by Rozhan @ 6/17/2005 10:33:00 PM


Blogoshpere Malaysia
Chow Kum Hor (NST- 17 June, 2005, pg. 18) wrote about the blog and said that in Malaysia, blogs are chiselling their way into the strongholds of newspapers and television. Is this true .. I think we are getting there, and the blog will be more powerful and penetrative than any other media. This is because the owner is the sole controller. There is no webmaster, you are the master.
What started as a personal account of events (some call it journal, some diary), it has developed into the cross-section of society, addressing issues in education, politics, business, dating and of course, adult content. It is not meant to be a threat to the current media, it has its own portfolios such as the text, audio and video as well as animation and networking.
But as always, we miss the point
. The blog is not meant to replace traditional media. If anything is better than traditional media by the provision of insight and indepth (credible) information and commentaries of a persons's favourite areas of expertise. If credibility is the question, we can question almost
EVERYTHING
on the net including educational sites and foreign media who can easily manipulate news and portray only what they want us to see. Don't be naive, please.
I was in Yogjakarta a few years back and actually saw for myself the 'portion' of the city where rioting and burning supposedly took place as seen on an International News provider. I assure you it looked as though the whole district was on fire in the news when it was no more that one shoplot and nothing else. The locals just said,
'ngak ada apa-apa di sini Pak, aman aja ...'
(there was nothing here Pak, all very peaceful). What we see is what they want us to see. If you were to live in the USA, say, it is to no surprise that the citizens of the US know absolutely nothing about the outside world and they themselves have too many channels and they themselves don't show much about anybody else.
Remember the LA Olympic Games, for example??
Again, we keep getting the wrong idea as far as the blog is concerned. The article also mentioned that bloggers are real people with real identities where authorities can come knocking on their door when something goes wrong. Aiyaaa .. guess this is why somethings do go wrong in certain areas and anti-government sentiment in certain towns (example) - the authorities are not going there!!. But then again, how are they going to go there - they don't know where to go!!!
| | |
| --- | --- |
| | I also found this clip about the blog that was published in Businessweek, stating that, as you can read Blogs will change your business. Let's keep the blog well away from lies and malice online. There would be no reason to do that. We can make the blog a credible source. We can use this to inculcate the young to write and we can check their writing and story at the same time. |

Read my entry on May 11. The blog is not for people who want to hide. The blog is the VOICE of an invidual (call it personal rants, if you want), the opinion of one, and you have the priviledge to hear that voice through the blog. Respect one's opinion. We can openly communicate, no need to come at the doorstep. As much as one can openly post, one can openly be talked to. We have now the capability to hear the voice of anyone in the world!! The voice will still be there in the kampung, coffee stalls ,coffee gardens, mosques, houses and so on. This mentality of catching people is so backward. Aiyaa, tak tau lah ...

posted by Rozhan @ 6/17/2005 08:57:00 PM


Flowery Budget in Kuala Kangsar
| | |
| --- | --- |
| | NST- 17 June, 2005- Front Page. I simply could not resist uploading this. I am still laughing. Can you look at her face. It is so, it is so ORIGINAL (laugh again), this is definitely a masterpiece, definitely. I mean just look at the face, utterly p***ed off. What brought this about?? Nothing much more than the Kuala Kangsar Municipal Council budget request under the Ninth Malaysia Plan. |

Total Budget requested:

RM118 million

, out of which the allocation are, for;


Schools:

RM7 million

Socio-Economic purposes:

RM7.6 million

City Services:

RM13.5 million

Infrastructure Development:

RM

32 million


Landscaping & Beautification:

RM51.5 million




Poverty Eradication:

RM1.5 million





RM51.5 million for landscaping and RM1.5 million for poverty irradication (as in the papers). Hmmmm .. no wonder she's upset. Aiyaa, tak tau lah ...



posted by Rozhan @ 6/17/2005 05:31:00 PM


SPM Top Scorers - Final Episode
So, read in the NST (Tuesday, June 14, 2005) that the Minister of Education would like to give
ALL
SPM top scorers a scholarship -
IF HE HAS HIS WAYS
. He wants to personally handle this case and was reported that he wants to meet the Director-General of the Public Service Department. The Education Minister and UMNO Youth Chief has a list of those who obtained A1s in all their SPM subjects.
All these as reported in the newspaper
. Hmmm .. here we go again. A few questions are begging for answers .. and
with ALL due respect, it does not require a rocket scientist to figure this one out!!


I will proceed in point form;

Are we all deaf or dumb or what?

The

PSD

kept on saying that they could give

MORE

scholarships if the

GOVERNMENT

provided the department with additional allocations.

HOW IS THIS NOT CLEAR??

Pray tell ..
Why does the

MOE

talk as though they and the

PSD

are from different planets, they meet in

Cabinet

for goodness sake ...

It does not matter if there is a list from Perlis to Sarawak, it all depends on allocations

The PSD are not aware of those still without a scholarship??

What is the

DG

of

PSD

gonna say to the

MOE

- give us more money, it is as simple as that - what else is he gonna say??

Whay are we barking at the

PSD

when the Government supplies the funds - give the funds, what is there, why all the hoo-haa

So next we shall see ALL SPM Top Scorers on their way to somewhere with a scholarship?

ALL top scorers?? 13A1a?? 12A1s?? 11A1a?? 10A1s ... now we have the funds?? He said ALL, hmmm .....

Personally, it is sad that this
NON-ISSUE
is given or even exploited by the media. Equally sad that top officials get in the fray, wanting to do this and that, wanting to meet so and so and giving assurances of 'action', so to speak. Don't be like that .. professional all the way, except in extreme cases ... even in Islam, rules are rules, but in 'special' cases, or in what is termed as 'dharurat' or loosely translated as an 'emergency', then there are exceptions to the rule.
If we keep on being jumpy at the very solid guideline that has existed for so long ... I don't know, it would be difficult to operate. So now, SPM results are out, we have applications, we have interviews, rank them, offer places, give places within the budget given. Finish, case closed. This is not closure in finality, but for the moment, that's it. Life goes on ... sounds brutal, try ignorance and no education ...
Enough also of the media catching all the top scores parading their awards and certificates and feeling utterly disappointed as if it is the end of the world. It is not gonna change anything. We are not saying that they are not clever. They have worked hard. Everybody can show their good results and stuff ... but
NOT ALL
can get a scholarship!!
It is tough to swallow, but swallow one must
. If one can't cope with this small disappointment, I would hate to think how coping with the real world in the future is going to be ... for at the end of the day, the result is not the point; it is the effort to improve ourselves that is valuable.
THERE IS NO END TO THIS PRACTICE.


Parents please do not demean this valuable lessons in your child's life by instilling such a myopic view. It is a long and winding road .... 'nuff said. Aiyaa, tak tau lah ...
posted by Rozhan @ 6/17/2005 01:31:00 AM


Wednesday, June 15, 2005
Nor Ida - Welcome to School
I read with interest the news (since a few days ago) in the NST (14 June 2005) about seven-year-old Nor Ida Shamsul Bakri who finally made it to school (in Standard One), five months after the commencement of the 2005 school session.
In an
aptly Malaysian style
she was escorted to the SK Sungai Dua by members of the State UMNO Public Complaint Bureau at 7.20 am.
Nor Ida failed to go to school at the beginning of the year, like others her age, as did not have a birth certificate (BC).
She is under the custody of her 67-year-old wheelchair-bound grandmother.



This is the best part of the news report:

State UMNO Public Complaints Bureau Chief

THANKED

the state education department for

ALLOWING

the girl to be enrolled in school.

I stared in disbelief at this statement. What the ..? Am I missing something here ..?


Aduh, come on Malaysians we should stop this kind of

apathy

in our society. Many questions come to mind, which in a way is a reflection of how we think and operate, and to think that we have the intention to BRAND Malaysia!! With all due respect, there is a lot of housekeeping to be done. So ..
Why did Nor Ida not have a birth certificate to start with?

- Granted that it is the responsibility of the parents to register the birth, but that system can now be improved by implementing a registration system that operate from the hospital. At least even if the birth occur at home, the midwife can facilitate as part of the JD that follow every birth.

School registration is done in advance!!

- The registration process for new students (Standard One) is normally done well

in advance of the actual year of entry

. The missing birth certificate could have been detected and attended to much earlier.

Why wait for 5 months?

- Even if the BC was not available, was she just sent home .. and wait for what? It would not take 5 months to register for a birth certificate, would it?

Thanks to the State Education Department?

- Holy Ravioli, what is this?? The state can NOT allow the girl from going to school, and we have to thank them for allowing Nor Ida to go to school.

I am lost for words!!

Look, if it weren't for the need for kids and the like to go to school, those guys would not have a job ..

We need to get a new mindset to attending to this sort of episode - you have no birth certificate, so you can't go to school .. that's it? Of course it is not your problem, but must we wait to such time that we are in that position? At home, we teach our children to be responsive.
If we ask
for the newspaper, '
I don't know where
' is
NOT
an acceptable answer!! If we ask for it -
LOOK
for it!!
If we ask
our children for the prayer times, '
I don't know
' is NOT an acceptable answer - look for it in the Takwin and let us know - now they write on the white board in the kitchen the daily prayer times.
If we ask
what the maid has cooked up for dinner, '

I don't know

' is NOT an answer - move your butt and go to the kitchen to find out and let us know. If it is not enough I will go out and get some.

There is

no such things as saying 'I don't know' and forget about it

because the problem will not go away!! Aiyaa, tak tau lah ...

posted by Rozhan @ 6/15/2005 09:09:00 AM


Sunday, June 12, 2005
Medical Dreams Fulfilled .. Malaysian Style
I really don't understand this, honestly. There is this big ballyhoo about TOP SPM scorers not securing a scholarship to further their studies in Medicine. A few names were mentioned with achievements of 12 1As and 13 1As. That was 9th June 2005. There followed vows from the MOE to look into this matter with the involvement of a Party President, including the PM, and
viola!!
- in The Star (11 June 2005), the Public Services Department (PSD) has offered scholarships to the five SPM top scorers who

initially failed in their bid

. A couple of column heads read,

'Students get to fulfil their dreams'

and

'Rejected top SPM scorers finally get PSD scholarships'

(Page 3, The Star, 11 June 2005). Congratulations.

IS IT WRONG TO WONDER HOW THIS CAME ABOUT??



In The Star

(9th June 2005, Pg.8), a report by Sim Leoi Leoi from Putrajaya revealed comments fron the PSD. An officer (I presume) clarified that the main constraints (of PSD) when awarding the scholarships is the limited number of awards available per year ... and, due to fierce competition, particularly for medicine, there will be those who won't be awarded the scholarship.It was reported that

4580 candidates were called for interviews

and 1265 were offered scholarships.

For medicine, 1189 candidates named it as their first choice while only 322 places were allocated for the course

.

The selection criteria are:

Excellent SPM results

,

Subjects that match course requirement

,

Grades for the subjects

,

National requirement for the course
PLUS

other criteria such as



PESONALITY,

SELF-IMAGE

,

ENGLISH PROFICIENCY

and

EXTRA-CURRICULAR ACTIVITIES.
These are clear guidelines and statistics provided by the PSD. A standard management strategy would be to

RANK

the applicants according to their total score (including the interview) to which even just a half-point difference could make a significant contribution, due to the fierce competition. Then presumably, those whose in the final rank (score plus interview) would be offered a place, naturally.

Logically those unsuccessful could appeal

AND

as in previous years, PSD would consider all appeals based on the number of students who turned down the scholarship

AND

on any additional allocations.

Otherwise, the unsuccessful applicants can seek sponsorship somewhere else.



This episode is fairly easy to understand. You go to the airport to fly KL to Penang. Places still available. Next person comes, flight full including Business Class. Persons agree to go on Standby, pending no-show of reserved seats. The ones on standby also has to join a stanby

queue

. Normally (as I have experienced many times in the past), one would be able to secure a seat, and there may be others to would be unsuccessful. What would they do, see the Manager to complain that they did not get a seat? Then the Manager would intervene and the 2 people, say, who complined managed to get a seat.

Question is, where did the 2 extra seats come from? Was someone asked to leave the plane to make way for the complaining 2 people? Remember there are fixed number of seats on the plane!! Did they 2 sat in the cockpit with the Captain (you have to know the captan really well) - remember the flight was full!

Now when the scholarship slots are full, the unsuccessful students will either have to wait in a queue of appeals. So naturally, those who want to join in will have to join the queue. This is a pretty straightforward process.

So, when it was reported that the PM was approached and a discussion ensued and that the Education Minister too lent full support to those students. It was reported too in the news that the PM gave his blessings and support for the cases to be brought to the attention of the PSD.

Huh? .. the PSD did not know about all these. Were they not doing their job?





What do these really MEAN??
The Public Services Department (PSD) has offered scholarships to the five SPM top scorers who

initially failed in their bid

. WHAT REALLY TOOK PLACE.

From the

MANAGEMENT

standpoint, I would like to know ... I am dying to know .. I have burning questions ...

what were the mitigating factors that led to the granting of the scholarships ..



Were the 5 students granted scholarship upon the request of the PM?


What made PSD decide to now offer the scholarship when they were not offered earlier?

What was different then and now?

Were the 5 students in the ranking sequence of the appeals?

Were the students in the 'queue' at all or were they beneficiaries of exposure in the news?

Where did the extra 5 places come from?

Why only five places - what happens when more appeals with political clout appear at the doorstep?

What about those students in the queue?

What about the students who may rank higher and accepted the rejection and have now apparently lost out to the five?
The fact that the 'legal' processes that has taken place in the selection of the students by the PSD was 'compromised' by its own members is poor reflection of its own working mechanism. We have just rendered the selection process useless. Why have the selection and scoring and interviewing when it can be trampled upon.
Then, anything goes. Where are the rules?
IT IS A MATTER OF PRINCIPLE!!!
Maybe it is no big deal, I don't know, but it means a lot to me .. it means a lot to those who abide by the processes, it means a lot to the those who go by the book, it means a lot to those who wait for their turn ...

What happens if the next one turn up ????
SURE ENOUGH -
In the

Mingguan Malaysia

today (12 Jun 2005) and on the front page, another student Abdul Azim Abdul Rahim also obtained 12A1 and was rejected by the PSD.




Where does one draw the line? Where does it end? Why stop at five? Why can it be extended then and not now? What is the criteria to stop?

This is what happens when you start to monkey around with the rules that we make. Once we have made a rule, done the selection properly and used the full allocation, then those unsuccessful must go somewhere else. Otherwise, we have nothing that we can call as an execution, but a process in limbo. This is only one side of the issue, that is how we do things.

On another note, what is this ballyhoo about '

going overseas

', '

getting a scholarship

' and the bigger issue of getting a '

university education

'. The whole point is
NOT EVERYBODY
can go overseas,

NOT EVERYBODY

can get a scholarship, and

NOT EVERYBODY

can get a university education. There are

LIMITED CHANCES

. The rest must carry on with their lives in different paths, different forms although they might get there at the end of the day.

Even if you get into a 'medical programme', you still have to pass the

Pre-U Med,

and believe me, there will be those who will fail even at this stage. I think this unrealistic rosy picture of a good thing after getting good grades in SPM is getting out of hand. If you are so good, go do your STPM. Even if you go overseas, you still have to do a 'STPM' equivalent, called by different names such as the 'A' Levels, Pre-U courses and the like. The fact that parents keep sounding that getting good SPM results and not getting a scholarship is

THE END OF THE WORLD

when in fact it is

JUST THE BEGINNING!!

Aiyaa, tak tau lah ...

posted by Rozhan @ 6/12/2005 01:33:00 AM


Saturday, June 11, 2005
A Matter of Principle
Read in the NST (3 June 2005) that a police chief quits over allegations of drunkenness and sexual harassment during a national conference for chief constables. Tom Lloyd admitted that a 'moment of foolishness' raised questions about his leadership and he felt honour-bound to step down before endangering the reputation of the constabulary. He went on to say thet, 'I deeply regret that a moment of foolishness may have caused some to question my integrity.' (all these are as reported in the newspaper). Well, Mr. Lloyd, I salute you for upholding your principle. Rest well, sleep well and on a full pension too. We have never met and never will, that is for sure, but then again that is not the point. What are we without principles. Any religion is based on principles. In Islam we have the Five Pillars and we have heard of the Ten Commandments and so on. Wouldn't the world be a better place if we hang on to our principles.
Rules that we make are based on principles, principles of fairness and appropriateness. Once a guiding principle is establish and everyone is subjected to the same condition, it would be very unwise to monkey with it unnecessarily. It will create discrepancies .. and once you break the rule, you can chuck your principle out of the window, because you have none anymore. There is no way you are going to uphold it again, once you have broken it. Once you break it, then you will have different rules for different people.
Great stuff this PRINCIPLE. For those of you who uphold good principles, I salute you, hang on to it, there is a value to it.


Then, in The Star (4 June 2005), the headlines read,

QUIT IF GUILTY.

By Golly, what a coincidence .. this time it was the Deputy Prime Minister stating that UMNO leaders found guilty of money politics will have to quit not just the party post, but also the Government position they hold. He also commended the move by a State Executive Councillor to resign after his appeal against a guilty of money politics verdict was rejected. Let us hope we see more accountabilty by ALL, all the way .... It is quite obvious that we are not just talking about money politics, but any kind of misappropriateness in conduct and incompetency. Can we do this? .. Are we up to this? Can we achieve this? .. Are we principled enough so see our good friend or relative in that position step down? Are we willing to see a loved one lose a job based on a principle? What if we are the ones in the position to execute such an order?


IT IS TOUGH!!
In the past, people have paid with their life upholding a principle. In the early days of Islam too if we remember, the believers were tortured and killed bsed on the principle of one God. Teach our children good principles and to uphold them. Put a premium value on principles ... aiya, tak tau lah ...


posted by Rozhan @ 6/11/2005 08:01:00 PM


Friday, June 10, 2005
Residential School Paradigm Shift
I am a bit behind time these days. Time fly by so fast, by the time I get to sit down to read the papers, it was news fom a few days ago. Read in
The Star (31 May 2005, page 6)
about the intention of the Government to build
12 new residential
schools to cope with the high demands as there were only 6,000 places available as opposed to 90,000 applications for Form One slots. For the Form Four intake, only 3,800 places were available from 37,000 applications. Hmmm ... if we take say 10 Form One classes (so Form 1A - 1K - omitting the I) with 40 students per class, then we will have 400 Form One students per school. With 12 new schools, we shall have places for 4,800 students. So, we will now have a total of 6K + 4.8K, giving us 10.8K. Out of the 90K that require placement, we still need to find places for 79.2K, that is 79, 200 students. Hmmmm .... (again ..)
Ok, ok, it is good that new schools are being bulit - residential schools. Three cheers ... hip, hip hooray (3 times), seriously... but we also need a new paradigm in the function of the residential schools. Places are limited, we all know that, that has not changed much, inspite of the new schools.
We need to rethink who goes to the Residential Schools.

Ponder, ponder ..
Let us go back 10 years ago (say, 1995). What is the academic scenario of a household in a middle-class (so to speak) family. How many computers can you find in the house. How computer savvy were you? How computer savvy were the children then, those in Form 1 and Form 4? How many computers were available in the offices and schools? How intensive was technology used in the schools, any school? THEN, the residential played a significant role in extending a conducive academic environment for the high achieving students.
If you come back to the present time and pose the same questions. What is your scenario now. We have the residential schools, we have the smart schools, with various facility levels, computer labs ( a sticky point with me but I will let it pass for the moment), cybercafes, households with computers and even the Cendol seller has his own website. In my house alone, we have 1 PC and 4 laptops and sometimes ALL will be on and almost all the children and us parents too will be looking at a screen. We only have one streamyx line and I am thinking of going wireless.
The scenario of the middle-class Malaysian is very different now. These include the professionals, academicians, doctors, engineers, lawyers, high rank Government officials, and politicians. Then we have the 'village people' cohort, those from small towns and villages and the cohort from remote schools. At best, only the best from these rural schools get to see 'town' when they are enrolled in the residential schools. Children from the 'comfortable' group of people spend more time on the computer at home
PER DAY
than they get to spend their time on the computer in school
PER TERM
. I know the schedule of the smart school time allocation to be on the computer. Is there a point to all these? Of course, what do you think .......
Now, it is no longer necessary to offer residential school placements to the children from the 'comfortable' group, who not only have the funds to go to tuition classes but also have the funds for their
children
to have
credit cards, handphones, iPODs, Digital cameras, PDAs, Game Boys, Play Stations, educational CDs at home, Internet access at home, access to many online site such as e-tutor, the e-didik and even a CAR!! and so on. They can also afford to buy ALL the revision or whatever books their children need to study including the expensive Lord of the Ring and Harry Potter books. These are also the people who go to Umrah and also to places like Bali, Perth and many more exotic locations
during the School Holidays
. Come on people, you are trying to tell me that the residential school can offer a better environment than the HOME!!
They can remain AT HOME and get better facilities than ANY residential school!!
It is also time for the professionals to chip in and sponsor their own children after they themslves were sponsored by the Government to further their studies and be the success that they are now.
As for me, as you may wonder, and even if you don't, I have NEVER applied for any Book Loan for my children. In fact even in my family, non of the siblings applied for scholarship in Secondary Schools, inspite of my father's modest income. We did not, then, have to cheat and put a different salary on the form just to get the money. I can still remember friends parading in their brand new Adidas shoes, Johnson boots and Levi's, and AMCO and Texan jeans when they got their scholarship. I got my first Adidas shoes when I on my way to the UK to do my A Levels.
This is the time to extend the opportunities to the children from the rural areas. Give it all to them. Fill up the residential school with the student with potential and even with half a chance so that they can get something really better, a chance to excell, an experience afforded to so few in the past. Give them the benefit of good infrastructure, good facilities, teachers (not to say the teachers in the rural schools are not good), motivate them. At the end of the day, the government will have MORE educated cohort from the rural areas and this will benefit the country all the more. What say you, people, what say you Ministry? ... aiyaa, tak tau lah ...
posted by Rozhan @ 6/10/2005 12:41:00 AM


Tuesday, June 07, 2005
Malaysian - American ..
We read lately, and then denied and then more news about the Holy Quran being desecrated in the prison where the POW are interned. Sigh ... come on people, what is new. Since the time of the crusade and even before that this insidious effect towards Islam, the muslims, the women and the Holy Quran has been experienced worldwide.
NOTHING
will make them change their mind and the way they behave.
HIDAYAH
come from Allah, and nowhere else. Even the Prophet (pbuh) could not change anyone and even he can only make doa'.
Even during the time of the Prophet Ibrahim a.s., the people refused to budge with their beliefs. Remember when he destroyed the idols surrounding the Kaabah and then placed the axe in the 'hands' of the biggest of the idols there. When accussed of destroying their 'Gods', he simply said, it wasn't me, ask the big one with the axe in the hand. They knew it in their hearts that the Prophet Ibrahim (Abraham) a.s was right .. those stone figures they worship can't speak or move. ..
but they were too arrogant to admit it
- but if there is no light in the heart,
there is no light in the heart!!
Hmm ....
So America will be America .. whatever right or wrong that they do, who can say anything? BUT the sad part of it is, WE still need them, we call them, we look up to their achievements, some countries wait for them to solve their problem, 'muslim countries' collaborate with them, need their money and aid. We are powerless to witness the muslim prisoners being humiliated and tortured, including the women.
Even if they are not muslims, the acts are beyond human decency.
Would you like the same thing to happen to you?
I
can only make doa for the well being of muslims worldwide, for I have to answer in the grave that fellow muslims are my brothers (and sisters).
But America is not the point of contention here... coming closer to home, we also have the Malaysian-American (the America in the Malaysian) ... people who, inspite of wrong doings, get away with it. Ironically, they also get to go higher and higher. Small fries like us are like the cuucmber and they are like the durian. They hit, we get hurt. We hit, we still get hurt. Some will even go further by saying, 'You don't know who you are dealing with!!' Whoa .. such arrogance .. but they also know that in spite of doing what they do, nothing will happen to them. Maybe they know someone's dark secrets, maybe they are so good at their work that they can get away with murder (not literally .. ) . Is anyone that indispensable, or do we have this
laissez-faire
attitude towards things, as long as we are not at the receiving end ...
but for muslims, please remember - there is always the hereafter - let's see how BIG you are then !!
Can anyone relate to this. Of course I have lots of stories that can relate to this, but I am just highlighting this principle that I myself ponder and the concept is a worldwide phenomenon, even among us as parents, superiors, heads of departments, professors and so on. Aiyaa .. tak tau lah ... (Translated in English: (Sigh) Oh .. I don't know ...)
posted by Rozhan @ 6/07/2005 10:06:00 AM


Secret Recipe
How time flies. Drove down to Kuala Lumpur on Thursday evening and was back in Penang by Sunday noon. While in KL, the kids met up with their cousins and had a gala time including a trip to the cinema to catch Madagascar. The first phots shows my third daughter Lina, and my only son, Muhammad Syafiq. The second photo (from left) shows my first daughter Iman, and my fourth (and last child) daughter Nurul. Was not able to get to a good network terminal so I could not post anything in the time that I was in Bukit Jelutong.





You may wonder about the title, secret recipe. Well, I'm going to share with you a kind of family sandwhich spread, very easy to make, very nutrituous and can keep for about two weeks in the chiller. Good for spreading on (brown) bread, crackers and between toast. You can take your sandwhich to the office and the children can take them to school. Also very useful for bachelors. You will need;





1 egg

- hard boiled and grated


1 medium size potato

- boiled and grated


1 chicken breast

(without skin) - boiled and shred finely


1 medium size gherkin

- wash, squeeze water out and and chopped finely


Half cup fresh peas

- sold in frozen form in the supermarket - thaw it first - skin on or off - up to you


3 tabespoon mayonnaise

(low fat or full fat - that's up to you)


1 teaspoon black pepper -

coarse - not the powdery type
NO SALT IS NEEDED

Mix everything with fork in a bowl. Check for consistancy. You may want to add a bit more of the mayo.



It can keep in the chiller for up to two week provided you don't scoop it out with your finger!! Sedaaaap .. Oishiii ...

If you have tried it, let me know.




posted by Rozhan @ 6/07/2005 12:42:00 AM


Wednesday, June 01, 2005
Back to the FUTURE !!
I was stuck in a Workshop on Future Studies organised by the Training Unit of the Universiti Sains Malaysia from Monday evening till lunch today (1st June 2005). The workshop was facilitated by none other than
Professor Sohail Inayatullah
. The workshop was conducted to chart a future scenario for USM. Hmmm .. future studies, I ask. You may well ask too. I had my doubts in the beginning. Listening to a 'lecture' on future studies alone is insufficient to appreciate the complexities of the deliberations regarding the future. It ain't no crystal ball gazing.
As it turned out, I found the Workshop both stimulating and interesting actually, as the deliberations on the construction of the scenarios of a 'future' was based on real parameters such as the 'push' and 'pull' factors. It is not easy to get me excited!! Push factor means the factors actually justifying the 'future' scenario or addresing a current issue or need and the pull factors are actually the barriers or obstructions or constraints (not necessarily insurmountable) in the 'future' picture.
In effect, if it can be summarised,
IF YOU DO NOTHING, DO NOT EXPECT THE FUTURE TO REMAIN THE SAME - AT LEAST NOT HOW YOU MAY WANT TO IMAGINE OR RETAIN IT!
Make any sense??
The world will change, people change, needs change, children grow up, we get older, health change, the grave is nearer and petrol price also change. In fact, the only constant thing about change is change itself !! So, 5 years, or 10 years down the road, what is the picture like, and how will
you
be in
THAT
picture. Still on the same salary, mindset, skill, knowledge, good deeds, sins (oops) ... or are you still alive?? Actually, although we did it in a workshop format, it made a lot of perfect sense in our daily, worldly and spiritual life. Absolutely.
This is no high level philosophy at all.
THIS IS REAL LIFE
, my friend, whichever way you look at it!! The web of life is continuously being woven .....
From Islam:
God will not change the fortunes of a person until that person make an effort to 'change' (methaphorically) his own self. Hey, if you want something, you'd better move your butt and do something about it .. it ain't dropping down from the sky ..
From Physics:
The law of inertia - a body at rest, remains at rest. A body in motion, remains in motion, unless there is an external force applied to it.
From the layman: What you give is what you get. You give more, you get more. You change more, you get more different scenarios.


I quote (adapt and condense) from Prof. Sohail (with many thanks) - Creating scenarios, are not constructed to be more robust or flexible but they are of use because they distance us from the present (consider the hereafter - the akhirat). The present is seen as impossible to change.


By moving forward and backward in time, the present can be made problematic, remarkable, open to transformation, constructed by particular frameworks and choices.The notion of choice brings us to anticipatory action learning.
The way to reduce risk is to create desired futures
(so to speak - man proposes, God disposes - buat dan tawakkal - tie your camel, lock your car..) -
so if you want heaven, stop going towards hell!! - your choice, you decide!


The details of a scenario, often categorised into society, technology, economy, environment and politics (STEEP) are not assumed, rather the y–axis is developed by those creating the future. They contour within their own categories.
The future is not given but made
. The future is created through doing. It can be doing the right things, it can also be doing the wrong things!!
Mistakes in forecasts are not seen as disasters but as feedback loops
. Learning develops by being sensitive and responsive to initial and future conditions – what we discover from complexity and chaos. Essentially this is a plea for participation and a recognition that common sense is necessary for understanding the future.
All knowledge is, if not biased, then textured. However, this texture is not to be controlled for (as in the predictive), or made distant (as in the critical), but, like the interpretive, to be used to create a better future – texture is a necessary ingredient. What is
YOUR
texture??
We will die on the day we are destined to die - no doubt abou that. How we die, where we die, in what state of piety .. God has given us
SOME
choices and 'control' over our actions, and a brain to think and decide.
Shape your destiny ....
posted by Rozhan @ 6/01/2005 09:25:00 PM


About Me
Name: Rozhan
Home: Penang, Malaysia
About Me:
See my complete profile
Free shoutbox @ ShoutMix
Web Counter
Previous Post
Links
Tarikh Hijriah
Referer


Template by