WELCOME
Links
Friends
Islam
AF
Malaysian Newspaper
International News
Airlines
TV Chefs
Cooking Anyone?
Bonsai Anyone?
Multimedia
Rojak
Sunday, December 25, 2005
Tuition Industry in Malaysia
Read in the NST today (24 December 2005, Front page, pgs. 4 & 5) that parents in Malaysia are sending their chidren to

tuition classes

that has been calculated to amount to

RM4.3 billion a month

. Holy ravioli .. and this is economy being handled via the teachers, a loop perhaps punctuatd by purchases of cars, renovation of house and overseas holidays. On any scale, this concept has existed for as long as I can remember.

However, there are two pertinent issues that has cropped up that I feel will remain with us forever more.

Firstly, schoolchildren do not receive the attention they need to fully understand the subjects they study, largely because of the teacher-student ratio.

A professional tutor, who teaches Mathematics, Science and English, said teachers take only one approach to teach a class of about 40 students. Hmm .. this is hitting the nail on the head, and it will continue no doubt. We talk about the fact that different students have

different cognitive levels

,

study at a different rate

and with

different modalities

and

different pedagogical needs

. Yet the class addresses ALL students in the SAME way and EXPECT all the students to get an 'A'.



Secondly, and this is the astonishing part, a tuition teacher said that, 'parents are oriented towards examination results and can be kiasu.'

Hello ...

is this guy from another planet.

Parents are examination oriented?

Is he trying to say that an average student with a bunch of A, B and Cs can get into a good school?

Is this person for real?

Parents nowadays have

NO CHOICE

but to try and ensure that their chidren get the best grades possible with the hope of getting them into good schools, selected and boarding schools. This is what is practised by our education system. It is the education systems that are EXAMINATION oriented. Aiyaa, tak tau lah ...


posted by Rozhan @ 12/25/2005 12:51:00 AM


Soba - oh - Soba ..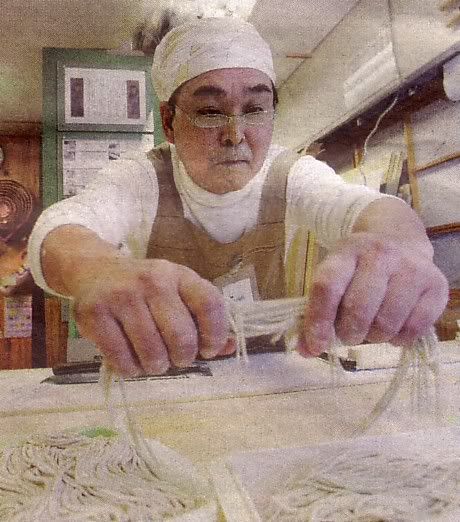 Soba
- NST, 21 December 2005, pg.34 (Reuters Picture) - Heard that the Japanese are reviving the passion for Soba, a kind of buckwheat noodle thant can be consumed cold but dipped into a soy-flanoured soup, garnished with chopped scallions and a bit of wasabi horseradish (1, 2, 3). Slurping is essential.

Health concious people should also consider soba, which contains protein, essential amino acids and, best of all, few calories. Ther's absolutely no fat in soba. Buckwheat also contains rutin, a compound believed to help reduce blood pressure and strengthen blood vessels and may have anti-cancer and anti-ageing properties. Soba apparently came to Japan from China by way of Korea.

At home, one can easily make the soup or dip base oneslef, also called the dashi, by using seaweed (see also kelp) and bonito flakes (katsuobushi). I make them myself because I omit the mirin (rice wine), so that it becomes 'halal' dashi. Wanna make dashi?


posted by Rozhan @ 12/25/2005 12:40:00 AM


All U-Can Eat Buffet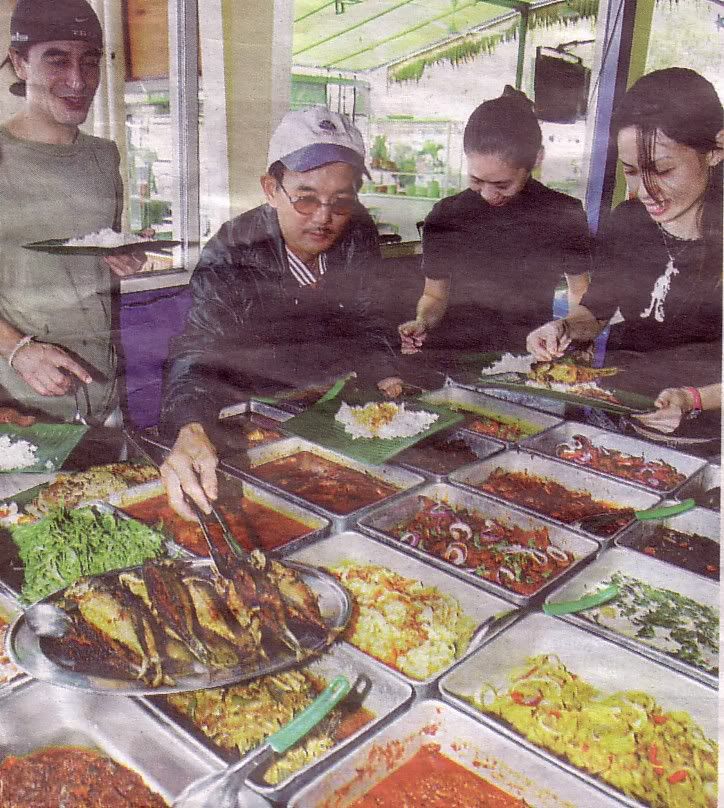 Aha ... must try this .. The STAR, 21 December 2005, pg.3 - If ever you are in Penang, Malaysia, maybe you wanna try this, an

eat all you want Halal Buffet

for RM3.90 nett. This is just about US$1.00. Not sure about the drink though. This

Warung Sampan

can be found along Anson Road (next to Garden Inn Hotel) and the 26 strong local cuisine awaits you from

11.00 am till 2.00 pm

.

The restaurant also offer Nasi Kandar and Malay and Thai cuisine, with several types of curries like fish and chicken as well as vegetable dishes. Another strong point is the two projection television screens and four 49-inch TV sets featuring daily fotball matches on ASTRO. Hmmm .. how big is the restaurant .. I have yet to sample the dishes. Apparently, the restaurant stated this so-called

'The Cheapest Halal Buffet in Malaysia'

in June!!. Come to Penang, and enjoy.


posted by Rozhan @ 12/25/2005 12:37:00 AM


State of the Art Library?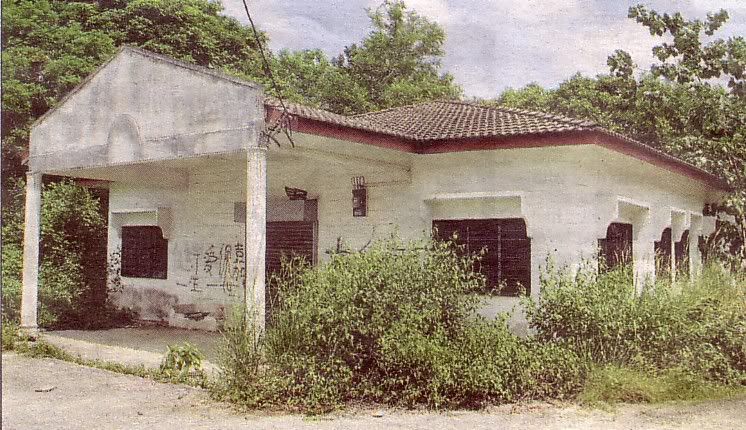 This is really puzzling - NST, 21 December 2005, pg. 24 - In Ipoh, Perak, for over two years, at least three village libraries have been in this situation, and one of them is due to be demolished with no plans to replace it. Although the building were supposed to be libraries, there were no books, not even a bookshelve, a table or a chair.

Comments by local residents include, 'It's a waste of moner', 'Why would they build a library but have no money to put books in it?' Hmmm ... here we are talking about the knowledge worker and K-economy and a leaerning society and here we have cases of third world style of doing things!! There are many more tales related in the news but it boils down to sheer incompetence and the lack of planning and all sorts of excuses .. all very haphazard and adhockish .. when will we ever change ..? Aiyaa, tak tau lah ...


posted by Rozhan @ 12/25/2005 12:34:00 AM


Friday, December 23, 2005
The PHYSICS NUT
Probably you are not a

Physics Nut

at this point.
But if your 'roots' are in science,
And you have already enjoyed one of the 'branches' of Physics
that gave you a 'budding' interest,
then when this bears 'fruits' you too might qualify as a

Physics Nut

one day.
posted by Rozhan @ 12/23/2005 04:08:00 PM


Malaysian ICT Target
The government has unveiled ambitious targets to boost the global competitiveness
of the country by having more Malaysians benefiting from the digital age (The Edge Financial Daily, Tuesday, 20 December 2005 by Tamimi Omar).
By 2010

, it wants

broadband penetration to grow to at least 15% of the population

compared with 5% now and to boost 3G coverage to five million subscribers.
By 2010

too, the government also wants industry players to roll out

mobile TV to at least 90% of mobile users

and

digital multimedia broadcasting to 95% of households

.
The targets are contained in the Energy, Water and Communications Ministry's blueprint known as the Malaysian Information, Communications and Multimedia Services strategy -

MyICMS 8896

- which involves eight service upgrade, eight infrastructure upgrade and six growth areas.
Perhaps by then too, we will have no more schools in containers, schools without electricity and leaking roof, as well as a totally new learning landscape to support the wonders of multimedia computing coming soon ...

aiyaa, tak tau lah ..
posted by Rozhan @ 12/23/2005 10:16:00 AM


Wednesday, December 21, 2005
Container Classroom 2005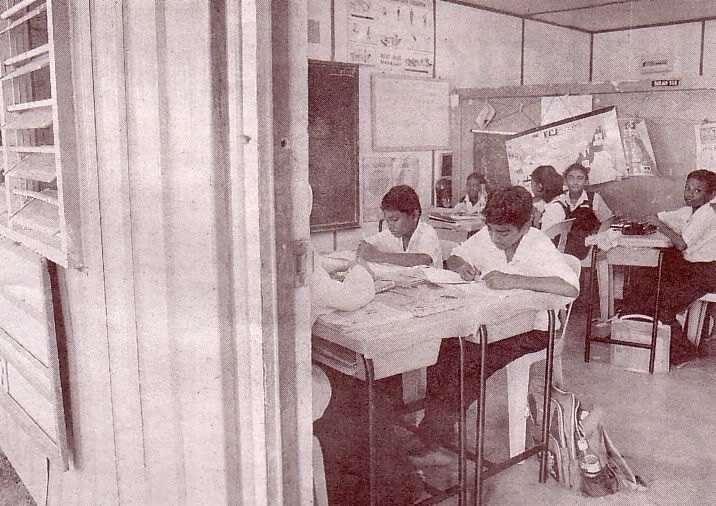 It is the year 2005

- Kuantan, Twenty-five pupils of SJK (Tamil) Ladang Jeram have been using two steel containers as classrooms and school facilities for the past six years.

SIX YEARS!!
The containers was to be a temporary arrangement until a new school was built not far from the main junction of the Kuantan Inner Ring Road.
Six years is temporary?


The original school building built in 1952 was torn down when the estate was sold for development of nearby Bandar Damansara Kuantan. However, the make-shift school is supplied with electricity and water, and has Internet facilities made available via a satellite dish provided by the State Education Department. Hmm .. looks like this set-up is better than the old one!!

Apparently, the school is one of the 159 school in Pahang with less than 150 students and classified as "school with low enrolment."

Any solutions?


Looks like they will have to wait for more to be reproduced in that area before thay can smell a School. Man .. can't they build a school and the extra classes can be used for Basic Adult Education and other meaningful activities. What if a school is needed, how soon can they get the school ready for use?? Sheesh .. talk about forward looking and long term planning,

Aiyaa, tak tau lah ..
(Story & picture from NST, 25 September 2005, Nation, page 20)
posted by Rozhan @ 12/21/2005 04:39:00 PM


Defect Not an Obstacle ..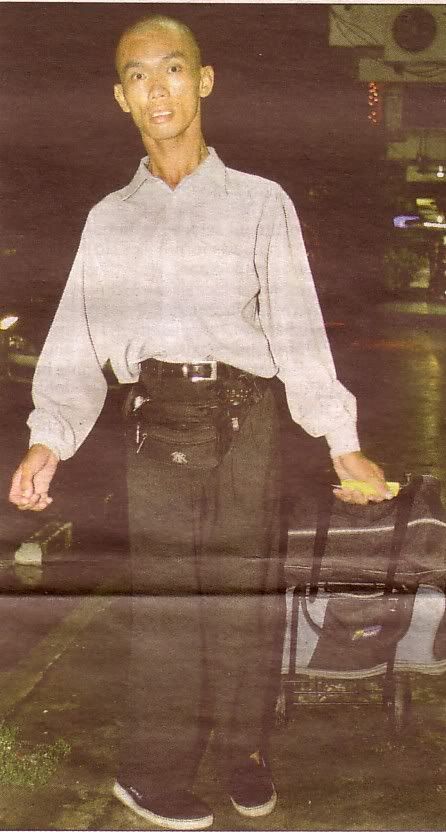 Birth defect not an obstacle

- NST, 16 November 2005, pg.13 - See Kai Soon, 34, was diagnose with severe Spina Bifida since birth. He walks crab-like, with both knees almost touching each other while his feet are bent inwards. His elbows are also slightly bent at an awkward angle and he talks with a slow and almost gibberish manner, making it difficult for others to understand him.

Despite his severe degree of paralysis, See has managed to overcome the odds and

he is now comfortably earning a monthly income of around RM2000 from direct selling.

To earn this is no mean feat for See as he has to walk more than 10 hours daily despite his condition.

See dropped out of school in Form Three (admitting that he is not clever). See came to join a direct selling firm and started selling items such as toys, books and electrical items, mostly factory overruns, for about RM10 each. Receiving only commissions, he still managed to earn about RM1000 a month.

Today, he sources for his own supplier, and has even added dried foodstuff and white coffee to the items he lugs around. Over the years, he worked hard and scrimped whatever he could and managed to purchase a new Perodua Kanchil in 2003. He also send RM200 to his elderly parents regularly. Asked of his future plans, See said:"I would like to get married like everyone else!" See, I wish you all the best.


posted by Rozhan @ 12/21/2005 04:37:00 PM


Sunday, December 18, 2005
Hajj 2006 .. Labbaikallahummalabbaik ..
By the Grace of Allah, The
Hajj
is upon us again, and there will be a group of people (a few millions) from all over the world who will be the Guests of Allah in the Holy lands of Makkatulmukarramah and Madinatulmunawarah. This is a journey of a lifetime, although nowadays the convenience of transport and wealth has afforded people to perform numerous Hajj. But for any person, it is made obligatory only ONCE ina lifetime, funds permitting, not only for the person going to the Hajj and for those left behind during that time. I wish the best for all the pilgrims of the world, have a lot of patience for the mental and spiritual test in store, be nice to each other in trying times, take care of your health for the physical demands awaiting and may you be blessed with Mabrur Hajj, the rewards of such an achievement being Jannah.
posted by Rozhan @ 12/18/2005 09:34:00 AM


Wardrobe in car?
Hmm .. I saw it again this morning when I was at the Taman Tun Sardon Market car park in Gelugor, Penang. Wonder if anyone has noticed the trend. It is this trend to hang your 'designer' clothes collection in the back seat portion of the car, hanging by the hand handle at the top of the window. You are free to view their collection of shirts,

baju melayu

(traditional Malay attire mostly worn to go to weddings and special celebrations and functions) and pants. I have yet to scrutinise for pajamas. And we have a kind of stock for about a few days, so the handle will be full, I would say about 7 hangers there.
Naturally, they are attires for men, of course

. I don't think any female would be hanging their

baju kurung

and stuff there .. hmmm, I wonder .. More, I wonder what their wife thought of it .. I would be dead first (or got hung ) before any of my shirts got hung in the car .. hehehehe ..

Aiyaa, tak tau lah ...
posted by Rozhan @ 12/18/2005 08:48:00 AM


Saturday, December 17, 2005
Illiteracy in the USA?
Hmmm .. Read in the NST, 17 December 2005 (pg. 32 - World News) that

11 million Americans are illiterate!!

Ooookay, but what this means is that (according to the newspaper - AP) about 1 in 20 adults in the US is not literate in English and lack the skills to handle many everyday tasks. Whoa !! It went on to say that from 1992 to 2003, adults made no progress in their ability to read sentences and paragraphs or understand other printed materials such as bus schedules or prescription tablets.

11 million people is an awful large number of folks who are not literate in English, said Russ Whitehurst, Director of the Institute of Education Sciences at the Education Department. Further,

some 30 million adults have "below basic" skills in prose

. Their ability is so limited that they may not be able to make sense of a simple pamphlet - AP. Aiyaa, tak tau lah ...

posted by Rozhan @ 12/17/2005 11:28:00 PM


Friday, December 16, 2005
Mental Arithmetic Champion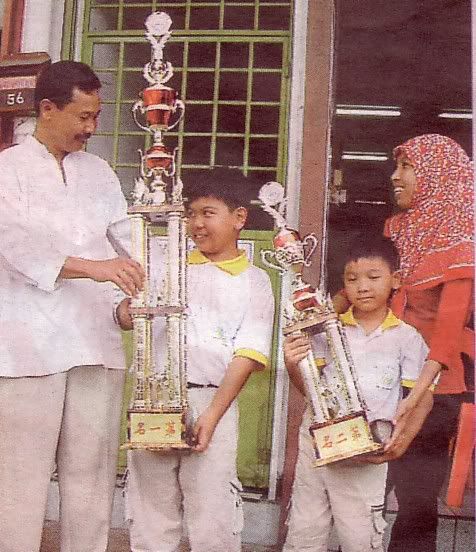 The Star - 15 December 2005 (pg. 18 - nation) -

CONGRATULATIONS

to Year Three pupil

Mohamad Syazwan Subri from the SK Methodist (ACS) Sitiawan

. This is something new. Never knew that was such an event.

Apparently, Mohamad Syazwan came up tops at the Grade Six level of an

International Mental Arithmetic Competition held in Taiwan

!! He gave correct answers to 47 sums in three minutes and a further 27 sums in just one minute to beat 99 others in his group, beating rivals from Taiwan, South Korea and Singapore.
AND THERE'S MORE !! ....
His younger brother, Year One pupil, Mohamad Syazwi Aiman Subri took second place in the Grade Eight level of the contest, which had some 60 participants. He gave correct andwers to 47 sums in three minutes and 23 sums in one minute. Picture shows both Syazwan & Syazwi with their parents, Subri and Rogayah. Their tuition techer accompanied them and eight other pupils. Next year's contest will be in South Korea. Perhaps the MOE should highlight all this in the Newspaper - a special page paying tribute to the achievements of ALL students in Malaysia. Congratulations to Syazwan, Syazwi, Subri & Rogayah .. & Goh Ming Yueh (the tuition teacher). Aiyaa, tak tau lah ...
posted by Rozhan @ 12/16/2005 12:29:00 AM


Thursday, December 15, 2005
Sydney 2005?
AP Picture - NST World News, 14 December 2005 (pg. 30) - Unfortunately, we do not live in a righteous world. With respect to the riots in Sydney - and for whatever reason or cause and effect occurance, we are too naive to believe that law and order will be restored naturally. We are dealing with

Human Nature

- worse than the force of nature. So it is pointless to say that, 'they (whoever they are) are not entitled to respond in a violent, criminal manner.' Let's get real here.



If there is one thing to remember, it took a long, long time to build a reasonably, tolerant environment, and it only takes a few seconds to destroy it.



It is up to us to choose. being drunk doesn't help. Now the unrest have spread to Perth and Adelaide. Looks like this deep seated feelings are just waiting to explode. People will just have to choose, to live happily, or be in constant fear and unrest.


posted by Rozhan @ 12/15/2005 12:39:00 PM


RM151m Gift to US Varsities
NST, 14 December 2005 (pg. 35 - World News) - In Boston, it was reported that a

Saudi prince

believed to be the wealthiest businessman in the Muslim world

has donated US$40 million

(RM151million) to

Harvard and Georgetown to expand their Islamic studies programmes

, the schools announced.
Prince Al Waleed Bin Talal Alsaud

, who gave US$20 million to each university, is a nephew of the late King Fahd and

is worth upward of US$20 billion

, according to Forbes magazine, which ranked him fifth on its 2005 list of the world's billionaires - AP.
Hmm ... what to say, what to say ...I will leave it up to you to decide how to use the US$40 million (that does not belong to us, of course - but there is no harm in imagining) .. maybe the Pakistani quake victim could use some, maybe a Muslim hospital .. perhaps a Muslim University ... hmmm,

aiyaa tak tau lah

..
posted by Rozhan @ 12/15/2005 10:29:00 AM


Monday, December 12, 2005
Holidays in 2006
Here is a list of holidays for 2006
Hari Raya Haji

- 10
January
(Tuesday)
Chinese New Year

- 29 & 30

January

(Sunday & Monday)
Awal Muharram

- 31

January

(Tuesday)


Prophet's Birthday

- 11

April

(Tuesday)


Worker's Day

- 1

May

(Monday)


Wesak Day

- 12

May

(Friday)


Agong's Birthday

- 3

June

(Saturday)


National Day

(Merdeka) - 31st

August

(Thursday)


Deepavali

- 21

October

(Saturday)


Hari Raya Puasa

- 24 & 25

October

( Tuesday & Wednesday)


Christmas

- 25

December

(Monday)


Hari Raya Haji

- 31

December

( Sunday)
Hmm ..looks like we will be celebration Hari Raya Haji TWICE in 2006
posted by Rozhan @ 12/12/2005 10:22:00 PM


Tuesday, December 06, 2005
World Champion Nicol 2005
Congratulations to Nicol David for being crowned as the first Asian and youngest World Champion after winning the Squash World Open in Hong Kong. The ranking will veveal her No. 1 status in January. To me this is not a surprise and she has paved her destiny from very early on. My blog on 2nd August (as seen in the first pic) also reviewed her British Open triumph and conveyed my hope that she will be No. 1. Hope is now a reality.

It is the result of extreme passion, discipline and unwavering focus, and achieving as A World Champion is the ultimate in realising the self and the self esteem.

I have no doubt that she will around for quite some time. This has been a well-rooted individual.
However, it is rather sad that in the midst of the outstanding achievement, there are people who cannot see beyond superhuman endeavour and the supreme resolute of physical and mental capabilities by side-tracking the whole essence of her triumph by fanning the fires of racism and the non-bumi issue. There were calls for the conferement of a Datukship to Nicol and the prediction that she may not be conferred one because she is not a Bumi. It is sad that this sick mentality and mundane issues become the focus of a few Malaysians.

I am quite certain that a Datukship was not the motivator for her success.

She is now been viewed by the eyes of the world, not by narrow minded people who will remain so till they die.
She is now a

WORLD CHAMPION

, all in her own right and the support and dedication of REAL people who understand the value of her feat. She has gone for the stars and achieved it too, the dust on earth will remain as dust, and forever be dust. Well done, you did it your way ... a fine example for the young and old alike.
posted by Rozhan @ 12/06/2005 05:00:00 PM


About Me
Name: Rozhan
Home: Penang, Malaysia
About Me:
See my complete profile
Free shoutbox @ ShoutMix
Web Counter
Previous Post
Links
Tarikh Hijriah
Referer


Template by